Product Details
Kingstone microSD 2 GB
Art.No.:
00053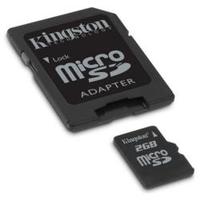 No ratings.
This item is not in stock and must be reordered.
Kingstone microSD 2 GB
Paměťové karty typu microSD - tedy Micro-Secure Digital - patří svého času mezi ty nejmenší a velmi flexibilní karty. Používají se v různých mobilních zařízeních, MP3 přehrávačích a dalších. Jsou velikosti menší než poštovní známky - 11 mm x 15 mm x 1 mm. MicroSD karty jsou (pomocí dodávaného adaptéru) zpětně kompatibilní se kartami SD.

Tento konkrétní model má kapacitu hned celý 2GB, která by měla uspokojit potřeby i náročných uživatelů. Jedná se o značkový výrobek firmy Kingston, na který je celoživotní záruka.
[!] Price Alert
We are happy to inform you about a price change of this product respectively when it hits the price you want to purchase.
Write Product Review
Current product

Kingstone microSD 2 GB
Art.No.:
00053